Wow! Was ein schöner Spot. Es ist immer etwas Besonderes Highlineplätze zu finden, an denen der Sport nicht einfach geduldet sondern so positiv aufgefasst wird. Von der Absprache über unseren Plan bis zur Abreise sind uns ausschließlich freundliche Gesichter begegnet. Es freut uns so viele Menschen mit unserem Sport faszinieren zu können und hoffen auch in Zukunft auf weitere Abenteuer wie diese.
Vielen Dank nochmals an Michael Kuen vom Strandbad Urisee.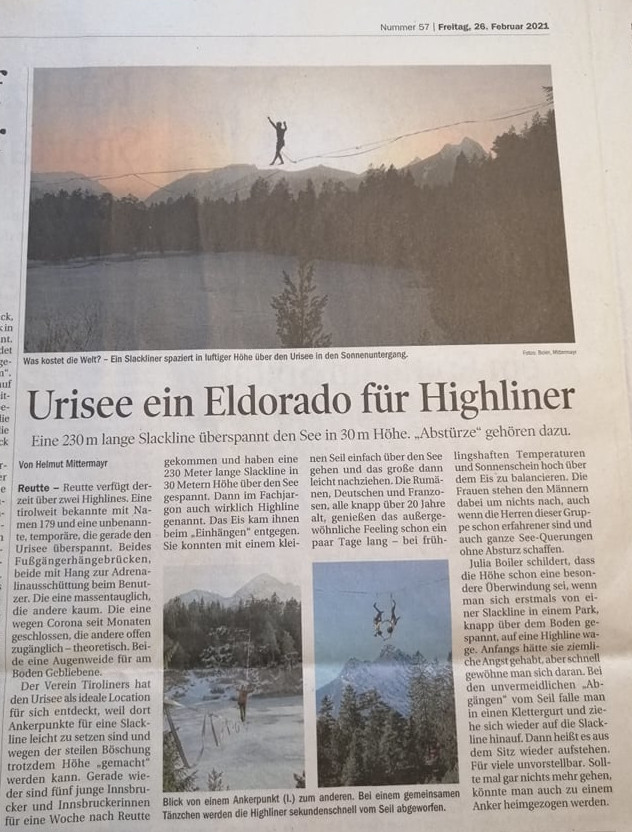 ---
English Version
What a beautiful spot! Some of us had the privilege to set up a 230m line above a frozen lake these past weeks and it was absolutely beautiful! On two occasions we rigged a long highline/midline directly over the lake in the last weeks. The lake was still frozen and here and then you could hear the ice cracking while walking peacefully over the highline.
Huge thanks to Michael Kuen from Urisee Strandbad for giving us the chance to highline at this peaceful place and letting us use the facilities! Urisee is definitely a place worth to visit.
The line was 230m long and around 30m high. With the 50m segments of our rainbow webbings we were able to walk this beauty safely.
Hopefully soon again!
Raed Slacklines | Iulia Boier | Julian Mittermaier | Jonathan Drude | Alexander Schulz Slackliner | Flo Zoller | Paul Küssner | Diana Alexe | Nathan Philipot