Sicherheit im Slackline Sport ist uns ein sehr wichtiges Anliegen und deswegen wollen wir Euch hier entsprechend hilfreiche Tipps zum Thema Unfallprävention sowie sicheres Aufbauen von Slackline Systemen näher bringen.
Zusammen mit dem Schweizer Slackline Verband (Swiss Slackline) hat der Österreichische Slackline Verband einen Flyer mit den wichtigsten Merkregeln zum Aufbauen von einfachen Slackline Systemen zusammengestellt.
Slackline Grundwissen / FAQ (DE)
Slackline – FAQ (EN)
Slackline – FAQ (IT)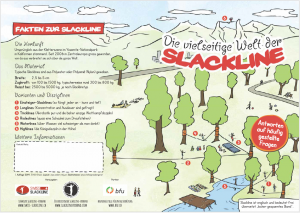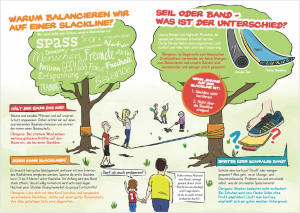 Slackline Sicherheit – (DE)
Slackline Safety – (EN)
Slackline Safety – (FR)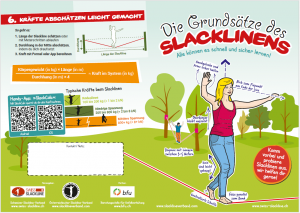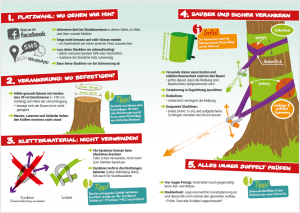 Weitere essentielle Sicherheitstipps:
Benutze keine Aluminium-Karabiner aus dem Klettersport
Bei Stahl-Karabinern: vermeide Dreiecksbelastungen, hierfür sind Stahl-Schäkel geeignet
Sichere dein Spannsystem (z.B. Ratsche, Flaschenzug) zurück, indem du mit dem restlichen Slackline-Band oder mit einem extra Seilstück das Spannsystem auf den Baum (nicht auf die Schlinge!) abbindest.
Verwende Baumschoner um dein Material und den Baum zu schützen. Bei Fels: Abriebschutz für Schlingen am Fels und bei scharfen Kanten, z.B. Teppichstücke
Zusammenfassend gibt es hier die Liste der 10 Slackline Grundsätze.
Safety in the sport of slacklining is a very important issue for us. Thus we want to give you helpful tips in order to prevent accidents and help you rig your slackline systems in a safe way.
The Swiss and Austrian Slackline Association have put together a flyer with the most important rules for rigging simple slackline setups.
Slackline Basic Knowledge / FAQ (DE)
Slackline – FAQ (EN)
Slackline – FAQ (IT)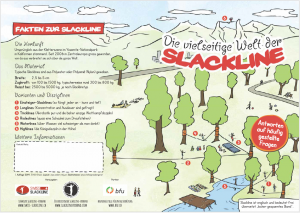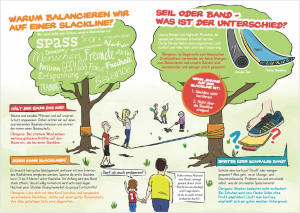 Slackline Safety – (DE)
Slackline Safety – (EN)
Slackline Safety – (FR))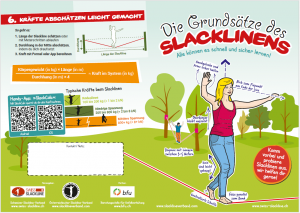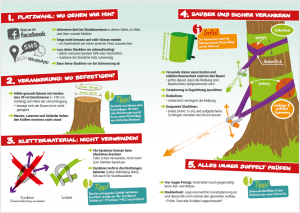 Further essential safety tipps:
Don't use aluminium carabiners from the climbing sport
If using steel carabiners: avoid triloading. For that purpose steel shackles are suited
Backup your tensioning system (e.g. ratchet, pulley system), by tying off the tensioning system with the remaining slackline or an extra piece of rope to the tree (not the sling!)
Use tree protection to protect your gear and the tree. With rock: use abrasion protection for rock and sharp edges, e.g. carpet pieces
All summed up in ten basic rules (available in german version only) for the sport of slacklining.